April 2014
NOTABLE NEIGHBOR - Christina Blais
Recently, I learned that one of our neighbors has a quilt hanging in Grand Central Terminal as part of a centennial commemoration of this New York City landmark. I was intrigued to learn more. Since I associated quilts with Little House on the Prairie, or maybe something grandmothers of a bygone era did to use up leftover patches of cloth, I thought I better learn a little more about this art. As it turned out, I knew Christina Blais, as she had served as Secretary for the Lordship Fathers Club. And I knew she was involved with quilting, and had even visited her studio during an open house at the American Fabric Arts Building in Bridgeport. But I really had no idea how serious an art form it is, nor what would make someone take up quilting. Christina kindly agreed to answer some questions and share some of her perspective and insights on quilting and on living in Lordship.
When did you move to Lordship?
About 6 years ago.
Where did you grow up? What was growing up there like?
I grew up in a village of 800 people outside of Troy, NY, called Schaghticoke. Very rural. And everybody knew everybody. [That's kind of like Lordship, right?] Yes (chuckle).
What do you like best about living in Lordship?
I like seeing the sea every single day. When I turn on Second or Jefferson my heart skips. That's the best, I think, because I like to commune with nature, experience nature everyday. It's just a vibrant community. I like to see all the strollers, and joggers, the bikers and dog walkers. You get a sense of healthy living here, when you see all the people that are out there and active.
What is your favorite season in Lordship?
I love winter! I love winter because if you get snowed in, there's nothing you can do about it and you can get some more quilting done! In the summer, there's just too much work - there's always too much to do. I love cocooning, and the idea of being snowed in.
What is your favorite restaurant?
I love the Windmill!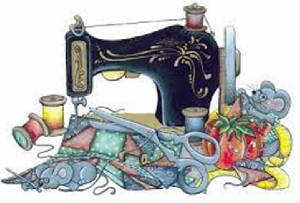 When did you get started in quilting? What inspired you to take up this activity?
Growing up, we had 4-H clubs. I was in 4-H and I had leaders who taught me how to sew. I started to learn to sew at 9 years old, and I probably sewed my first quilt in high school. But back then, there were not all the tools we have today for quilting. For example, rulers and rotary cutters and sophisticated machines.
What would you recommend to someone interested in pursuing quilting?
They should take a class with me! If they are interested in learning to make a quilt they could: 1) work with Jennifer [Silberger]and the Sunshine Committee* - they are always looking for help making quilts; 2) I give lessons –private and group, in my studio in Bridgeport.
What are some of your greatest memories around quilting?
I've always seen quilting as not only a solo endeavor, but as a community endeavor. People working in groups to make a quilt and today, still, there are groups that get together and quilt and sew together. For example, I go to the Lordship Community Church and quilt on Monday nights. They have a group called the "Quilting Circle" that gets together then. We have one man and a group of women, and we share our projects and learn from and inspire each other. So in general, the social and community aspect.
I also really enjoy color and choosing just the right fabric for just the right spot.
What are your future aspirations/goals?
I do traditional quilting and art quilts, I do both, but I would like to focus on my art quilts and continue to enter them into competitions and shows. I really hope to someday have a quilt in an international show.
What resources are you aware of for quilters that are in or near Lordship?
I belong to the Studio Art Quilts Associates - which is a national organization that has a CT chapter - so we have meetings. Like the LCC group, this group is also educational and inspirational. That is an organization that anyone can join - they just have to have an interest in art quilts.
You can contact Christina for lessons or to find out about workshops she holds periodically, in her studio:
christina.onebobbin@gmail.com
203-612-6109
* The Sunshine Committee delivers hand-made quilts to families in Lordship when they have a newborn baby, among other community outreach activities. To find out more about the Sunshine Committee, or to notify them of a newborn baby, please see their web page: LFC Sunshine Committee
---



Is the Grand Central Terminal Challenge the first contest you entered?
When I first joined SAQA, they were going to do a juried show called Local Color; quilts that represented CT. In a juried show pieces would be judged for artistic merit over technical skill. I entered 3 total pieces, and 2 of the 3 were "juried" into the show and were displayed across CT. For example, they were at WCSU in Danbury, they were in the Legislative Office Building and also the Slater Museum in Norwich, among other venues. But the GCT contest was my most prominent - it was a national competition. The pieces, rather than "juried", were "judged," which means the workmanship as well as the artistic merit were evaluated. The winners of the GCT Challenge had pictures of the winning quilts featured in the sponsoring magazine's April 2014 issue. The magazine, American Patchwork & Quilting, along with a NYC fabric store, The City Quilter, and the top 12 quilts were featured in the magazine.
It's very exciting for me to see my name and town on the GCT quilt. It's just exciting - it almost feels like when you see an Olympian, and they are from CT. It just makes me happy to feel like I am representing Stratford.
What is the difference between "art quilting" vs. "traditional quilting"?
A traditional quilt would be something you would probably sleep under and actually use. An art quilt is primarily a piece of art in which the artist uses fabric and quilting and other embellishments to create the piece. Just simply hanging a quilt on a wall does not automatically make it an "art quilt".
You have to have both good workmanship, sewing construction – it is work - but you also have to have good artistic sense. It can be tricky - it's a good puzzle. You have a vision and you have to figure out how to get it done.
So do you consider yourself an artist?
I do, but it is a new journey for me. I don't have any formal training in art, whether or not I will ever make a living in the art quilt world is TBD. But I certainly enjoy my journey and it's very exciting for me.
It sounds like quilting is still alive and well?
It's very alive and well.
Christina with quilt on display at GCT

See Christina's quilt, among the other winners, at the NY Transit Museum Annex, Grand Central Terminal, easily reached by walking down the ramp from the Vanderbilt & 42nd Street entrance. The Museum is across from the Station Master's Office and adjacent to the Transit Museum Shop.
The quilts will be on display through July 6.
Hours: Monday – Friday, 8 am to 8 pm; Saturday & Sunday, 10 am to 6 pm
---